Everyone deserves a form creator that's as easy to use as Umbraco, so we built just that. Whether it's a simple contact form or an advanced multi-step questionnaire that integrates with 3rd party services – it'll be a breeze.
1. Intuitive User Interface
Creating responsive forms is as easy as editing content in Umbraco and it's a seamlessly integrated experience. You can select from a range of well known input types, select validation rules, and even conditions – for instance "only show this field if the visitor answered 'Yes'". All through an intuitive and robust user interface.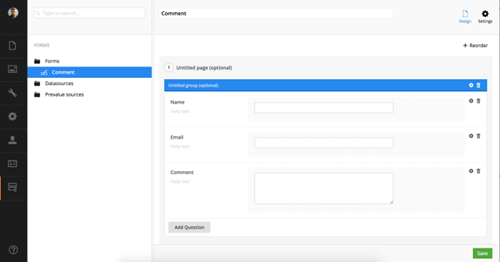 2. Simply advanced workflows
While it's nice to gather data, it's even better when it's put to use. That's why Umbraco Forms lets you setup advanced workflows that can send e-mails, update webservices, save in CRM systems, and much more.
3. Beautiful reporting
Once your visitors have filled out forms, you can easily browse and search through the data using the built-in reporting tool or download the data for more advanced processing in Microsoft Excel or Google Spreadsheets.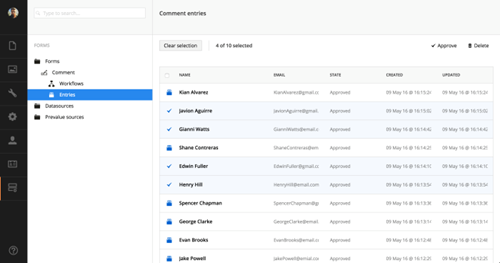 4. Installation and upgrading:
Extend Umbraco with the form builder section in a few step. Since Umbraco v7.2, Umbraco contains the forms section by default however by default you'll only get to view the dashboard with an intro video and the option to install Forms.
Navigate to the forms section:
First of all we'll navigate to the forms section in Umbraco, There you'll see the Forms dashboard which consist of a preview video and an install button.
To proceed with the installation, hit the install button.
Now wait for the installation to complete
Proceed to the full Forms section,Once the installation is successfull you should be able to start using Umbraco Forms. For details on how to proceed check out the editor documentation
5. Buying and configuring a license
Since Umbraco Forms is a commercial product you'll need to have a valid license file in order for it to fully work. If your Umbraco Forms installation is still in trial you should see the following notification on the Forms dashboard
Buying a license:Licenses for Umbraco Forms can be purchased on http://umbraco.com. So if you hit the buy license button you'll be redirected to the

umbraco.com

website and are able to buy a license in the webshop.
Configuring a license:You can either download your license from the

umbraco.com

website and place it in the /bin directory of your site manually or you can use the configure existing license option on the Forms dashboard (please not that you'll need to have your

umbraco.com

account details in order to fetch the license)
Licensing model:Licenses are sold per domain and will also work on all subdomains. You'll also get 2 development domains. So a full license could like like

*.

mysite.com

*.

mydevdomain.com

*.

myotherdevdomain.com
Only 1 license can exist per Umbraco instance, if you wish to extend a license with additional domains that option is also possible on http://umbraco.com
More on Umbraco Forms: