In this article, we are going to discuss the latest mobile app development trends in 2020-21. It's no secret that mobile apps are among the fastest-growing sectors of the world's technology infrastructure with 2.1 million Android apps and 2 million iOS apps now available on leading app stores. With a diverse array of use cases encompassing everything from direct-to-consumer service delivery to business-to-business communication. New technology in mobile application development clearly represents one of the world's greatest opportunities for revenue growth in the future.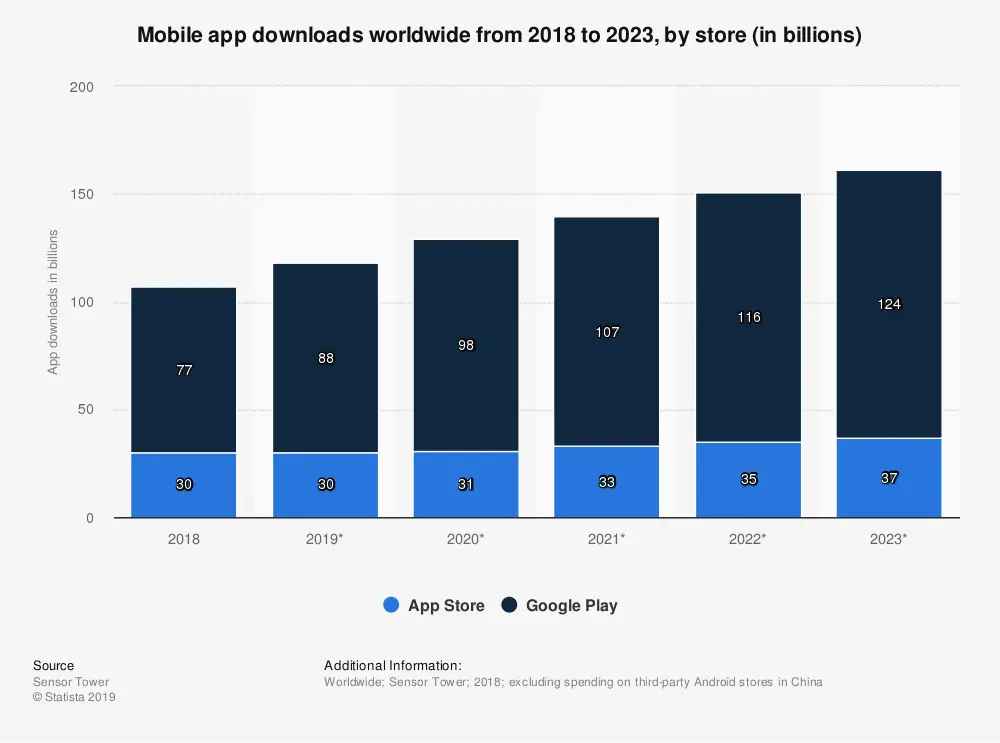 In fact, the revenue from mobile applications is projected to exceed more than 365 billion U.S. dollars. by 2023.
by Statista
With more than 5 Billion smartphone users worldwide. Mobile app market trends not only represent a tremendous opportunity to reach previously inaccessible markets, but mobile technology itself offers an unprecedented frontier for your business to incorporate cutting-edge technologies like machine learning. Cloud computing, and natural-language-processing (NLP) directly into your offerings for customers.
As smartphones replace laptops, it's no wonder mobile app developers are in high demand. In future apps, numerous mobile application development trends will be present with different technologies. Like any opportunity, however, taking advantage of the opportunity for app development requires staying abreast of current trends.
Top 10 Mobile App Development Trends That Will dominate in 2021.
1. Integration with Cloud-Based Computing Services
With mobile devices having limited memory and storage, it is important to have a centralized source of data over the cloud. This has led to an explosion in cloud service offerings from large names like Amazon Web Services (AWS), Microsoft Azure, Google, IBM, and Oracle to many small players. Almost all mobile apps of the future need a cloud backend to store and access the data and computing power from the cloud.
The trend has solidified further with announcements from all major cloud players to offer quantum computing capabilities that will help modern apps of the future to have enormously high computing power available at a fraction of the cost.
As rapidly advancing computing power creates the capability to analyze larger data sets, it provides mobile applications of future more capable to run advanced algorithms with enhanced AI and ML.
2. Machine-Learning
The dramatically increased computing power made possible through cloud-based infrastructure services has quickly ushered in a new era of improved machine learning models. As more and more smartphone users come online every day. These models are able to continuously learn from ever-expanding data streams.
Thereby improving their capabilities by the minute. While the ability to deploy state of the art machine learning models in mobile applications was once reserved for only the large companies. These models are becoming a standard integration for mobile applications, no matter the size of the user base.
The TensorFlow project from Google, for example, provides low-cost and scalable access to a continuously updated library of machine learning models built on the back of billions of dollars in R&D by the Google AI team. With the increased ability to access these machine learning models. The potential use cases for your mobile app are nearly endless, and the revolution is just beginning.
And if talk about the power of machine learning in mobile app trends are the following ways:
No need for human interaction and human interference.
It can easily handle a large amount of multi-dimensional data with the help of machine learning.
There will be continuous improvement in the process like operation, analysis, and improvement.
Better predictive and recommendations modeling using data analysis
3. Chat-Bots and Artificial Intelligence
According to Oracle CEO Mark Hurd – Over 80% of customer-company interactions will involve no human customer service representatives by 2025. Automated chat-bots, such as those built on the natural-language-understanding engine of IBM's Watson Assistant and similar tools will not only be able to instantly process customer requests but to provide a superior, much more personalized version of customer service while decreasing the burdensome overhead associated with staff and manual labor.
Unlike their traditional human counterparts, chatbots are inherently capable of working 24 hours per day. The seven days per week, 365 days per year to service even the most demanding customers. With all of these benefits, it's no wonder that the global market for automated chatbots and A.I. Based on customer service representatives is projected to grow at a staggering CAGR of more than 25% per year from now until 2024.
Uses of chat-bots with artificial intelligence-
It enhances customer service and customer engagement by providing customer assistance.
It is very cost-effective for consumers.
It impacts business by improving sales and customer services.
4. 5G Mobile technologies
The 5G mobile communication will be a great boon for mobile apps with faster and reliable connections, access to information, speed of the internet and the ability to stay more connected. 5G is going to help applications such as smart homes and smart cities, remote medical industry and also work with 3D arrays in the coming years.
Pros of 5G technology are
High internet speed and high performance for 5g networks
 Good and reliable connections for users with mobile apps
More reliable B2B apps for business users
 More data processing and transfer across connected devices
5 G is still new in the market and slowly building on as a trend. With time moving as more smart devices get connected through 5G, this technology is surely going to shape the new mobile app development techniques of the coming future.
5. Blockchain
Blockchain technology is another building block of the next wave of mobile apps that we would start seeing in the near future. As we know, Blockchain is a way to store transactional data that can be accessible to only required parties and can not be modified. It is the very foundation of cryptocurrencies and is claimed to become the next wave of transparently store data.
As we know, Blockchain in the future will be used in any transactions where more than two parties need to share and control the data and execute contracts. Soon in near future, we will start seeing blockchain becoming the backbone of data accessed by mobile apps.
With the help of blockchains, the apps in the future will allow users to verify the validity of transactions without depending on other parties. Transactions are added according to the chronological order and cannot be changed.
6. Enterprise mobility
Enterprise mobility emphasizes on creating mobile applications specific for an enterprise catering to internal and external users. Apple some years back announced its ability to allow enterprises to host their private apps outside the public app store.
This changed and welcomed the idea of enterprise apps which was limited to blackberry before that. Since then, many enterprises have allowed and adopted to bring your own device policies and asked their employees to install business process apps through internal app deployment servers.
Here are some features enterprise mobile apps can offer for organizations
Enterprise mobile applications offer you better collaboration and easy access to any kind of data, documents available across all the departments in an organization.
Enterprise mobile apps allow employees to be able to use any kind of phones and still have access to same apps and data securely
They allow enterprises to safely control the access of the data and apps for specific employees as needed.
With better business processes being managed on the move, it allows the employees of the future to work from anywhere.
7. Beacons
Beacon technology is one of the most promising things happening in location tagging and proximity marketing. Beacons are very small and wireless transmitters that use low-energy Bluetooth devices to transmit the signal. It transmits the signal to smart devices making location-tagging. Beacons technology makes communication easier between devices and more precise.
The GPS chips on phones cannot find close proximity details of the user which carries a large problem for applications that need close proximity access within the building. Beacons are used to triangulate signals around to identify local presence of the devices connected.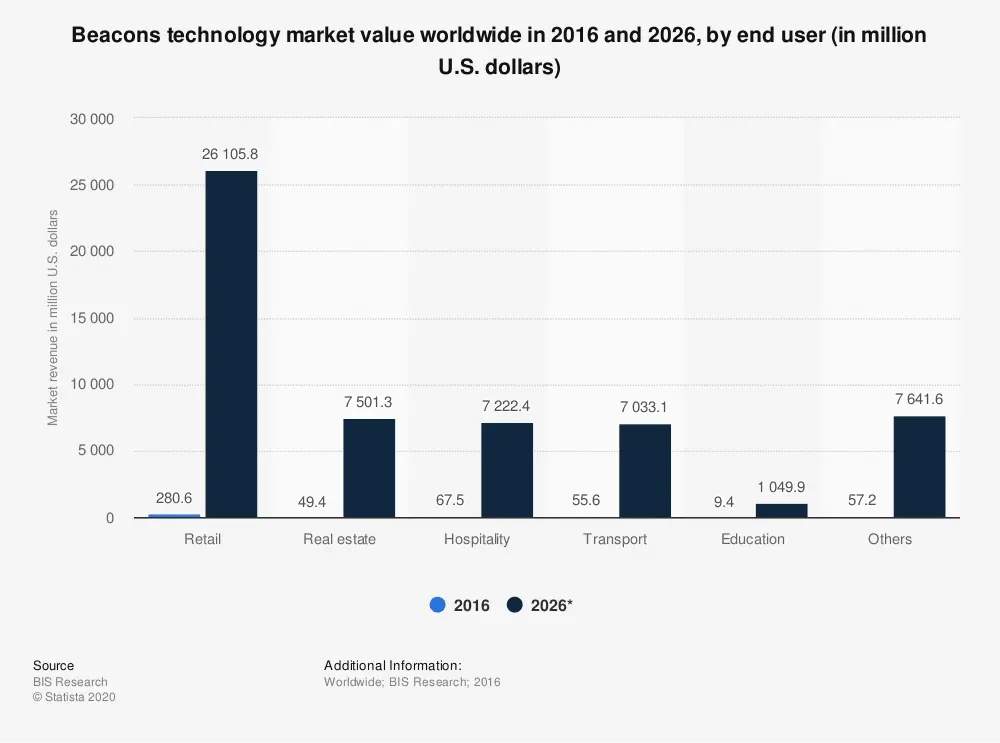 Here you can see the global market value of beacons technology in 2016 and 2026, by the end-user application.
by Statista
This is a boon to mobile app development of the future as one of the mobile app's future trends. Developers can now easily track the location of the apps/devices using beacons and communicate by sending app-specific messages and notifications to the apps within a range of these beacons.
8. On-demand service apps (uber style)
The on-demand service business model has taken the industry by storm. With services like Uber, Lyft, uber eats, Air-Bnb it is now proven that one does not need to own hard assets to become a unicorn company in the future. There are plenty of services and industries that are slowly going to be changed with these on-demand app platforms.
These apps help have two or three-party interactions on the platform to complete the transaction. It provides a way for every individual small or big vendor to have their products or services being sold directly to the consumer without spending much on marketing.
Soon such on-demand apps will be adopted with individual flavors by local businesses to support the customer demand and reduce the margins loss with larger players.
9. Wearable devices
Wearables devices are trending everywhere in the world. We already have been using smartwatches, fitness bands, digital trackers, and other smart wearable devices. All these devices have changed the mode of interaction with smart devices.
Every wearable device needs a different set of platforms to run services. For example- apple smartwatches require the iOS system and android smartwatches require the android system to run and execute their services. Developers today have the option to integrate their apps with wearable devices.
10. Improving mobile app security
Those days are long gone when cybersecurity investments were only a need for large businesses to safeguard their corporate secrets. As per Juniper's research, the total loss globally due to cyber hacks in 2019 was staggering $2 trillion. Half of these attacks as per research have been targeted now on small businesses and public apps.
Cybersecurity thus has become a very important trend that must be kept in mind in developing new mobile apps. It is no longer limited to apps that involved financial transactions. Today's apps need to keep cybersecurity in mind from days when the business model or technical architecture is planned.
In mobile apps of the future, be it for consumer or enterprise setting, Mobile app developers must keep cybersecurity at the center of their approach in developing strong data accessing architecture so that companies should not land in large lawsuits and losses incurred later.
Conclusion
If you're looking for the next big opportunity in business or want to transform your business digitally. Make sure to include developing mobile apps with the latest mobile app industry trends into your overall strategy. Mobile apps provide access to newer markets, help you reach closer to your users, and engage directly in transactions.
The ability to deploy your mobile application on cutting-edge cloud infrastructure for unprecedented speed, scale, and reach helps you leverage artificial intelligence and machine-learning models. With such a combination, your opportunity in mobile apps is truly unlimited.
The app world is evolving at a really fast pace. This is primarily because mobile users change their taste all the time, and new technology is popping up every day. If you want to come up with a unique app, make sure you pay attention to the app development trend. You can start by implementing the ones we have highlighted above.