After coronavirus has changed the way things are run all over the world, many people are wondering what the future holds for remote working.
Working remotely is not a new idea, even though it appears to be for many people. A remote work report on Hubspot showed the number of employees who work from home at least once a week since 2010 (as far back as 2010) has increased by 400%.
But the figures have increased dramatically since the COVID-19 outbreak and the lockdown declaration. Now, people are eager to find out about the future of remote working - what will happen in 2021?
How Are Industries Adapting to the New Remote Working Norm?
Since March, when a lockdown on non-essential services was declared in many countries, companies resorted to asking their employees to work from home. Even the five most prominent tech companies also followed the directive.
Google, Amazon, Microsoft, Apple, and Twitter closed down offices partially and asked most of their employees to start working from home. Apple completely shut down two major offices – one in China and the other in the US.
Google and Facebook said in 2021, they would welcome staff back and reopen their offices to employees who have been working remotely. So, the remote workers ought to keep working from home until 2021.
Amazon said that employees working at its headquarters would keep working from home until October, which is the minimum period according to Amazon.
In the case of Microsoft, the company said it would allow some of its staff to return to offices while the rest may keep working from home till October this year. Microsoft President, Brad Smith, said it can help the economy with remote work more than being in a designated office.
Twitter, on the other hand, said its employees could go on working from home for as long as they want, but there will probably be options to also resume work in offices for employees who prefer that.
It is very likely that many other companies, including non-tech companies, will follow the trend of these five prominent tech companies. So, remote work is becoming more acceptable more than ever before.
Since the early days of the pandemic, IDS has been very responsive to all the safety measures imposed by the government. They believe that employees' safety comes first and have taken prompt action to ensure it.
IDS had an early and prompt response towards shifting to work from home, and in order to properly assess the situation, IDS conducted a small survey entitled "WFO vs WFH". 
A small survey was submitted to employees, asking them what do they prefer "Work from Home (WFH)" or "Work from Office (WFO)". Forty-eight colleagues responded and their answers came as follows: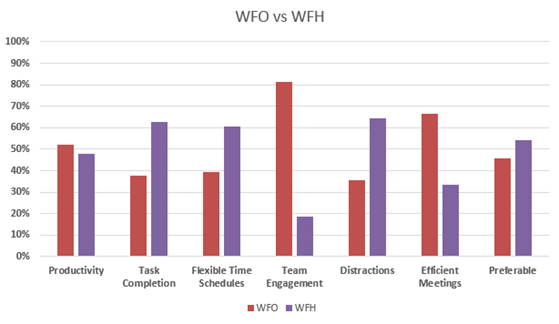 On the other hand, IDS believes that, as a team, they have been able to maintain a good level of productivity despite the adversities, and took this opportunity to thank the IDS team for the hard work and commitment everyone has shown. Engagement in a healthy work environment is the main concern, and they are always ready to take all necessary steps to achieve this.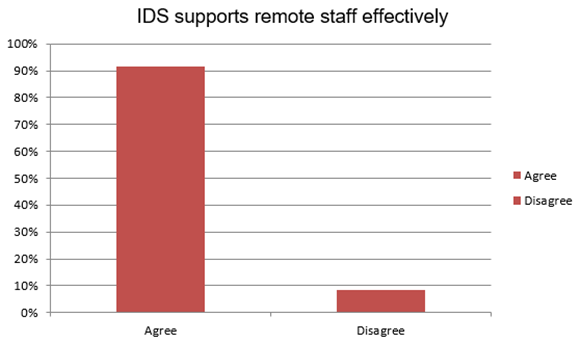 Until they improve our WFH team management even further, working from the office remains a target, and they will do all that it takes to achieve this within the limitations set by the pandemic.