Today, YouTube launched a new feature within its family of mobile applications, allowing users to share videos in a chat-like interface with friends. Here's how it works.
The intent of this feature is unabashedly to keep discussion of videos on the YouTube platform, rather than have users head elsewhere to sites like Twitter and Facebook.
Conversations are inherently private; users can select the friends they want to share it with from their phone's contacts. There's also the option of inviting people though dedicated links, which can be shared on other platforms. In total, YouTube's new feature supports chats involving up to 30 people.
Participants can then offer their take on the video through text, emoji, links to other videos, or by creating clips of their own.
The feature isn't new; it launched in Canada earlier this year, and is now making its way throughout the globe. YouTube has also introduced a new 'Shared' tab at the bottom of its app, allowing you to keep track of your conversations.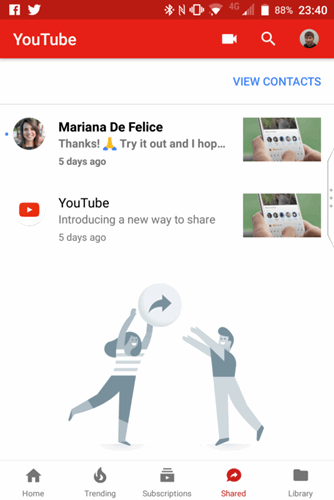 In trying to change how people share the videos they find, Google has undertaken a fierce challenge. While this new feature is undeniably sleek, I can't imagine many people will make the effort to use it.
It's biggest problem isn't just that it arrived late in the game, but that it's only available through the YouTube mobile app (for now, at least). That can only be a disadvantage.
Source: The Next Web